Please join us Saturday from 1:00-4:00. Our good friend Brian Leger from Treasury wine estates is back after a long hiatus to pour the great wines of Penfolds... including their new outstanding releases from California!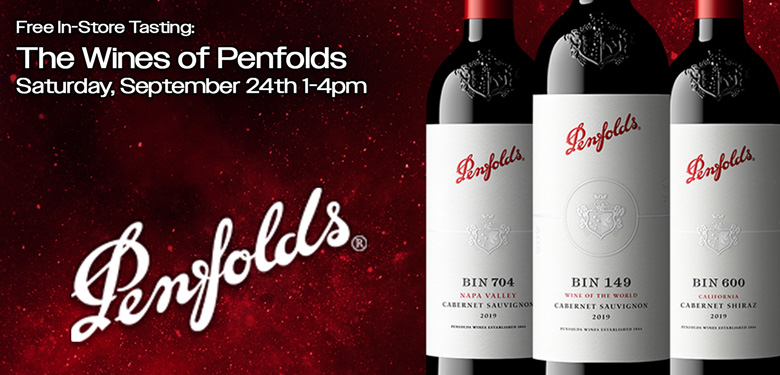 Penfolds
Since 1844, Penfolds has played a pivotal role in the evolution of winemaking with a history and heritage that profoundly reflects Australia's journey from colonial settlement to the modern era. Penfolds collection of benchmark wines were established in a spirit of innovation and the constant and endless pursuit of quality, evidenced from the secret bottling of Grange in 1951 and the unbroken line of vintages of what is now Australia's most iconic wine. Today, the collection continues to display the distinctive and consistently recognizable Penfolds 'House Style'; the ultimate expression of Penfolds time-honored tradition of sourcing the best fruit from the best regions. Historic blends, significant milestones and heritage vineyards have been honored by a lineage of custodians whose courage and imagination, precision and humility have ensured Penfolds remains true to its original values while remaining relevant for current and future generations. The stories and philosophies behind each label bring a timeless quality, making Penfolds wines special and compelling for collectors and drinkers the world over.
2019 Penfolds Bin 311
Bin 311 Chardonnay truly reflects the winemakers' mantra "always go where the fruit grows best." A necessary addition to Penfolds range; sourced from 3 cool climate sites in the Tumbarumba region of New South Wales, the Adelaide Hills in South Australia, and Tasmania.
Sale $36.99

| SKU

90951
---
2019 Penfolds Bin 28
First made in 1959, Bin 28 is named after the famous Barossa Valley Kalimna vineyard purchased by Penfolds in 1945 and from which the wine was originally sourced. Today, Kalimna® Bin 28 is a multi-region, multi-vineyard blend, with the Barossa Valley always well represented.
Sale $27.99

| SKU

90919
---
#84954 2018 Penfolds Bin 389
First made in the 1960s by the legendary Max Schubert, Bin 389 highlights the generous mid-palate and the beloved Penfolds "house-style." Affectionately known as "Baby Grange," because components of the wine are similarly sourced and the wine is matured in the barrels that held the previous vintage of Grange.
Sale $54.99

| SKU

84954
---
2018 Penfolds Bin 600
Named for the Camatta Hills Creston "600" Ranch planted more than 20 years ago in the Creston District of Paso Robles, this wine embodies the Penfolds core philosophy of multi-region, multi- varietal blending—a style created and perfected by Penfolds in the 1960s.
Sale $43.99

| SKU

85844
---
2018 Penfolds Bin 704
Deep understanding of terroir and mastery of technique come together in this inimitable style of Cabernet Sauvignon. A mirror image of Bin 407, it showcases Napa Valley fruit through the lens of Penfolds winemaking traditions.
Sale $69.99

| SKU

85845
---
2018 Penfolds Bin 149
Cabernet Sauvignon is a globetrotting grape unlike any other. Its unique adaptability and the classic characters that come through, regardless of where it's grown, were the inspiration for the inaugural Bin 149. The wine's name is derived from the percentage of South Australian Cabernet Sauvignon synergistically woven into the blend.
Sale $149.00

| SKU

85846
---