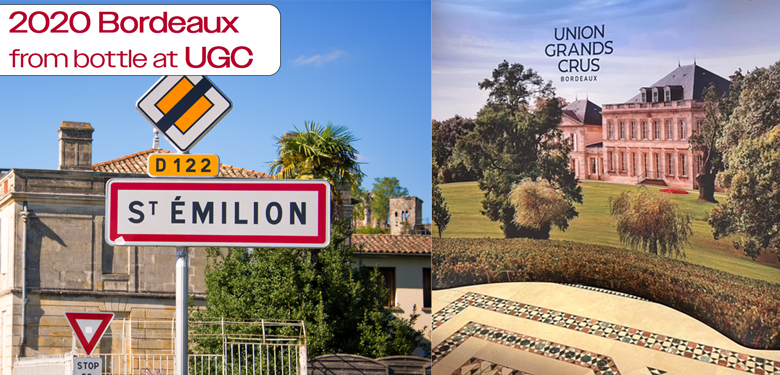 The room was buzzing at (the very well attended) UGC 2020 Bordeaux tasting last Monday in New York City. Many top chateaux made the journey across the pond to show their wines and it was certainly a treat to taste so many very fine Bordeaux.
Overall, I really like 2020. The wines (in general) have bit less alcohol and show freshness and precision. The fierce tannins that were very prominent in many of the barrel samples we tasted a few years ago have mellowed out and it was encouraging that a few wines I wasn't so sure about have really blossomed now that they are in bottle.
I found some real gems on both sides of the river and I'd have to say the "two saints" St. Julien and St. Emilion were the stars of the show. Truly every Chateau in St. Julien crafted a wonderful wine (with attractive pricing to boot) and the St. Emilions (especially the ones from the limestone terroir) are full of power, style and finesse-perhaps the wine version of a fine sports car!
-Phil Bernstein

p.s. I had dinner with a negociant friend the night before the event and he had had the opportunity to taste almost every one of the 2020's…The buzz from some in Bordeaux is that Haut Brion is the wine of the vintage. So, if you are looking for a splurge bottle….
Some of my favorites (priced low to high)...
ETA Spring 2023
Most wines will be packed in wood six packs.
2020 Chateau Prieure Lichine - Margaux
Almost too good to be true at this price! PL has been on quite a roll as of late. Love the sense of balance here and you know right away you are in Margaux….
Sale $39.00

| SKU

86941
---
2020 Chateau La Lagune - Medoc
Just like in 2019 this famed (classed growth) property right near the border with Margaux is an absolute bargain. Very classy and refined with everything in the right place -should age very nicely as well
Sale $42.00

| SKU

86940
---
2020 Chateau Langoa Barton St. Julien
There was a bit of buzz in the room for this wine. Of course, everyone knows the Leoville Barton but Langoa is often forgotten. This is by far the best wine from here in quite some time. Really nice fruit and aromatics here
Sale $42.00

| SKU

93622
---
2020 Chateau Branaire Ducru - St. Julien
This was a tough wine to evaluate a few years ago and I was thrilled to see that it has come together in a superb way. Very silky with a nice hint of spice and finishes long. Owner F-X Maroteaux tells me it's his favorite Branaire in recent memory -he even thinks it will surpass the 2016!
Sale $48.00

| SKU

86907
---
2020 Chateau Lagrange - St. Julien
I've been on a big Lagrange kick since my stay there last year. I think this is the most underrated property in all of Bordeaux and the wines keep getting better! I love the 2020 here-it's medium weight and has loads of character -will age very well (as Lagrange always does!)
Sale $55.00

| SKU

86990
---
Chateau Giscours - Margaux
We liked the barrel sample of this one from the start and it's turned out very well in bottle. A very elegant Giscours that should really blossom with some bottle age. Bravo Alex!
Sale $62.00

| SKU

87115
---
2020 Chateau Larcis Ducasse - St. Emilion
2020 Chateau Pavie Macquin - St. Emilion
Loved, loved Larcis and its neighbor up the hill Pavie Macquin (both under the same wine ownership). Anyone that enjoys Bordeaux should have both of these wines in their cellar. Larcis has a darker fruit component with that nice mineral undertone that comes from their exceptional terroir. Pavie M is a but spicier and has an even stronger mineral component with a hint of iron on the finish that was quite unique. Once again, a terrific pair of wines…
2020 Chateau Larcis Ducasse - St. Emilion
Sale $83.00

| SKU

87117
2020 Chateau Pavie Macquin - St. Emilion
Sale $89.00

| SKU

87189
---
2020 Chateau Canon - St. Emilion
For me, this was far and away the best wine in the room. A very sexy wine with silky tannins and that signature Canon mineral finish (limestone terroir again!). This is a tremendous effort for sure….wow, wow wow. Really gets your attention!
Sale $179.00

| SKU

87174
ETA Spring 2023
Most wines will be packed in wood six packs.
---