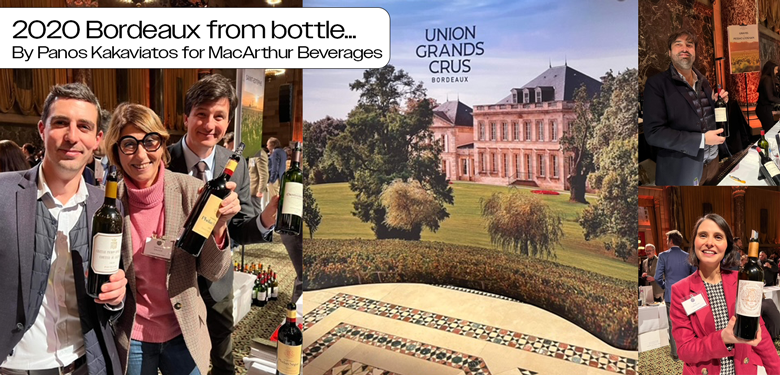 Lunching at Château Montrose in Saint Estèphe late last year, managing director Pierre Graffeuille served the 2016 and 2005 vintages, remarking that the 2020 at this venerable Second Growth conveys "a sense of the structure of those great vintages". Technical director Vincent Decup added that the 2020 offers "the advantages of a solar vintage but not the disadvantages".  
Although the vintage at the time had the driest summer since 1959 (2022 is the new record), with small, thick-skinned grapes packing high alcohol potential and low acidity, cooler nights as compared especially to 2018 account for "freshness and wonderful sap in the wines, despite the hot and dry summer", observed Vincent Millet at neighboring estate Château Calon Ségur.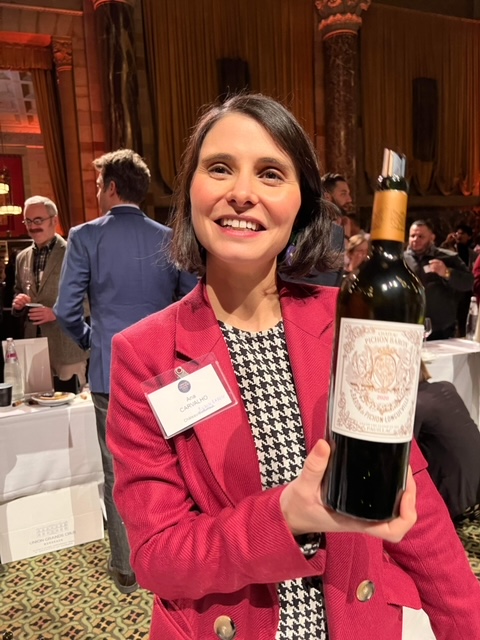 Indeed, in the Médoc, alcohol levels are generally lower in 2020 as compared to both 2018 and 2019. While they often lack the immediate charm of the 2019s, some of the best 2020s surpass 2019 on the Left Bank with greater depth and palate substance. The 2020s also lack the almost New World ostentatiousness of the 2018s, but, in the Médoc especially, the 2020s have a more classical feel when compared to 2018.  While alcohol levels can be high on the Right Bank, they are often balanced by acidity, yielding compelling wines. Indeed, when tasted from barrel, I felt that the very best came from prime spots in Pomerol and Saint Emilion. But from bottle, the Médoc also reflects much success, from humble Cru Bourgeois to the top of the pops, which include the two Pichon estates in Pauillac as tasted in New York last month at the UGCB.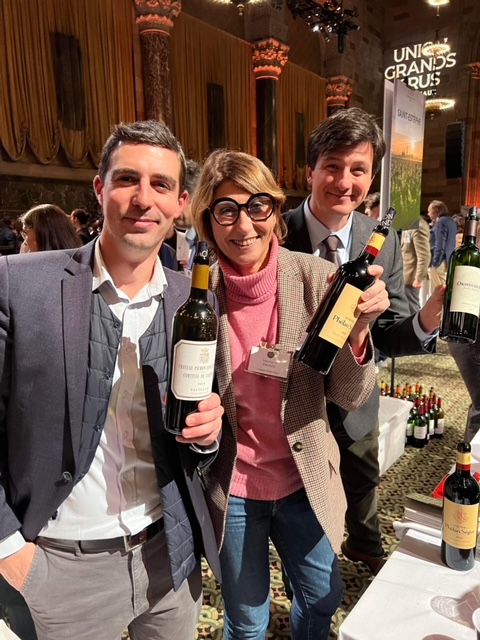 Barrel aging has rounded noticeable tannins encountered from barrel in the Médoc. Pauillac power, with notes of pencil lead and cassis, is encountered often, from more affordable estates like Château Pedesclaux to the superb Château Mouton Rothschild that clocks in at well under 13% alcohol. Mouton Rothschild director Jean-Emmanuel Danjoy says that 2020 has a "bit more depth" than the 2019, as did other commentators. Indeed, I drank the 2019 Mouton over dinner in January this year in Washington D.C., and it seems much softer by comparison. 
A trilogy tasting late last year across different price points came in handy where the successful Second Growth Château Léoville Barton, for example, clocks in at 13.5% alcohol, lower than the other two vintages, each with 14%. The 2020 also has the most Cabernet Sauvignon, at 85.5% (the 2019 has 84% and the 2018 82%). Notes of pencil lead and graphite are impressive, as is the palate precision and underlying power, experienced again in New York at the UGCB tasting.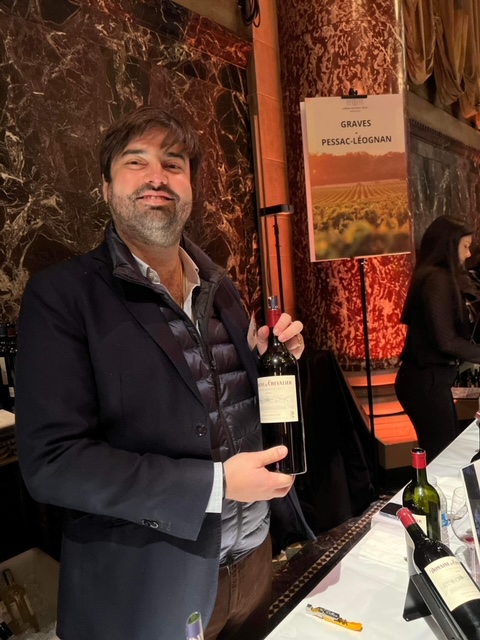 Saint Estèphe includes a wine of the vintage at Château Cos d'Estournel, which exhibits seamless opulence and power, seashell freshness, and an endless finish. Further south, one also encounters floral elegance and impressive power at Château Brane Cantenac in Margaux to spherical, First Growth like breed at Château Gruaud Larose in Saint Julien. Many non-classified wines I tasted were very good to excellent, especially Château Sociando Mallet (AOC Haut Médoc) and Château Poujeaux (AOC Moulis), but also several currently classified Cru Bourgeois.
Right Bank appeal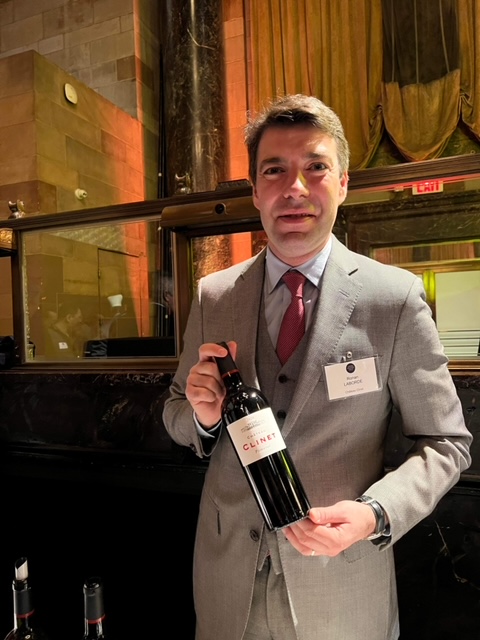 The Merlots from cooler clay and limestone soils make the Right Bank especially captivating. Château Canon is a grand success in Saint Emilion. I also liked the second wine Croix Canon and bought six bottles of both as futures. Other great wines not to miss include Châteaux Pavie-Macquin, Larcis Ducasse and Clos Fourtet. But you can find excellent less expensive wines as well from Saint Emilion: from wet stone elegance and refinement at Château Laroque, which fellow taster Jane Anson dubbed a "brilliant wine", to the gorgeously balanced Château Rochebelle with smooth tannins and a long finish.  
By the same token, Pomerol has no shortage of superb 2020s, from a gorgeous Vieux Château Certan and sumptuous Château Clinet, to less expensive brands such as Château Beauregard, which exudes bright fruit and impressive structure.
Solid whites
As for dry whites, comparisons are being drawn with 2021, which some critics billed as great. Perhaps its image was accentuated from the underperforming reds. Indeed, at Château Margaux, comparing the (100% Sauvignon Blanc) Pavillon Blanc 2021 and 2020, neither was clearly better. While the 2021 conveys higher acidity, it also has less charm than the 2020, which displays superior body and dry extract. As with the reds, the very best 2020 whites come from vines growing in cooler microclimates and/or soils. Take for example Domaine de Chevalier or the limestone subsoil at Château Couhins-Lurton Blanc, another classified Graves from the Pessac-Léognan appellation. The 2021 is certainly fleshy, clocking in at 13.5% alcohol, but also balanced by vibrant acidity and wet stone purity, topped off by juicy apricot and brisk lime aspects. By comparison, some 2021 whites come off leaner and less fun. In short, while the whites of 2020 do not constitute a great vintage akin to 2014, many are very good.
Here are a few of Panos' top wines of the vintage...
| | | | |
| --- | --- | --- | --- |
| 87064 | 2020 Chateau Gruaud Larose St. Julien | $86 | |
| 87188 | 2020 Chateau Clos Fourtet - St. Emilion | $125 | |
| 87196 | 2020 Chateau Smith Haut Lafitte Blanc - Pessac | $140 | |
| 87174 | 2020 Chateau Canon - St. Emilion | $179 | |
| 87167 | 2020 Chateau Cos d'Estournel - St. Estephe | $225 | |
| 87220 | 2020 Chateau Mouton Rothschild - Pauillac | $620 | |