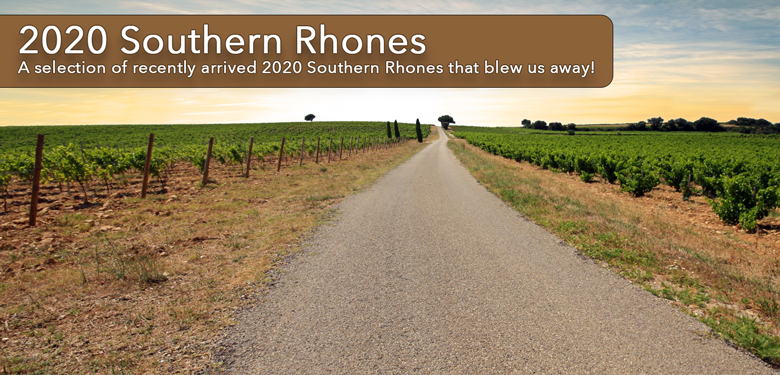 We've been doing some "research" on some recently arrived 2020 Southern Rhone wines. I would say that thus far these are the most exciting wines we've tasted from this great region since the much-heralded 2016's. In some ways I like them better. The wines are wonderfully elegant and balanced (but not thin by any means), have great aromatics and most importantly great freshness. I'd have to go way back in my memory bank to think of another vintage where young Chateauneuf and company showed this well at such a young age. Prices have remained reasonable as well so this is a great chance to stock up and do some "research" yourself! -Phil Bernstein
Some recent arrivals that we think you shouldn't miss:
Both of the below are expertly made by our good friend Eric Bonnet of Bastide St. Dominique. Both are absolute bargains! -Phil
2020 La Reserve Saint-Dominique – Rasteau
Sale $19.99

| SKU

93372
---
2020 Reserve St. Dominique – Gigondas
Sale $26.99

| SKU

93375
---
My favorite "old school" CDP. Bois de Boursan may be the best kept secret in the Southern Rhone! -Phil
2020 Bois de Boursan - Chateauneuf du Pape
"Lovely ripe strawberry and cherry fruits as well as peppery garrigue and sandalwood emerge from the 2020 Châteauneuf Du Pape, a medium-bodied, silky, pretty, perfumed, and ultra-classic release from this estate. It's going to drink nicely for 10-15 years."
90-92 Points Jeb Dunnuck
Sale $44.99

| SKU

92185
---
A wonderful Vieux Donjon. Almost Burgundian in texture. Very silky and easy to drink yet the complexity is there. -Phil
2020 Vieux Donjon - Chateauneuf du Pape
The 2020 Châteauneuf Du Pape is another winner from this team, and readers can't go wrong here. Based on 75% Grenache, 10% each of Syrah and Mourvedre, with the balance Cinsault, it was partially destemmed and brought up all in foudre. This beauty just about jumps out of the glass with its Provençal aromatics of ripe cherries, ground pepper, saddle leather, garrigue, and spice. These carry to a medium to full-bodied wine that has the vintage's charming, pure character front and center, yet still brings good mid-palate density and ripe tannins. Buy a case, count yourself lucky, and enjoy bottles any time over the coming 10-15 years.
95 Points Jeb Dunnuck
Sale $59.99

| SKU

89808
---
Pegau always rocks. Don't miss the 2020! -Phil
2020 Pegau - Chateauneuf du Pape Reserve
I was even more impressed by the 2020 Châteauneuf du Pape Cuvée Réservée than the 2019. Boasting crazily complex floral scents, garrigue, raspberries and cherries, this is one incredibly perfumed example of Pegau. Medium to full-bodied, silky, elegant and long, this is quintessential Pegau.
96-98 Points Joe Czerwinski Wine Advocate
Sale $69.99

| SKU

93110
---
More from the Rhone Valley...